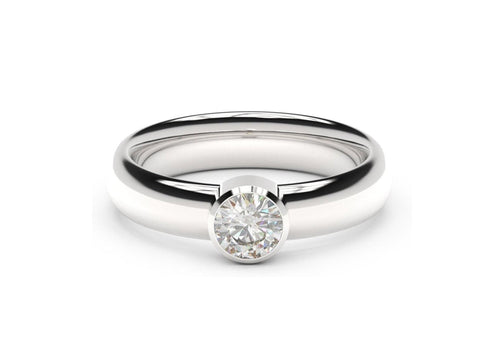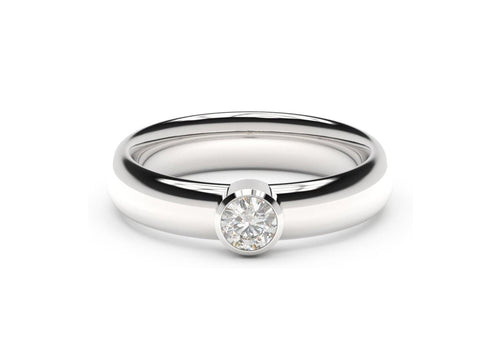 Stunning Modern styling, fashioned in White metal, this ring features a straight bezel style setting that showcases the brilliance of the diamond and provides ideal protection. The band has the same unique shape as our Famous replica Ring and is Engravable putting this design a step above the ordinary.
If it is not perfect as is please click the Talk to Us About a Custom Design button below for more options.
Specifications
Metal type: Available in 9ct, 14ct & 18ct White Gold & Platinum 
Setting style: Straight Bezel.
Stone type: Premium Diamond
Stone shape/cut: Round faceted Brilliant cut.
Stone quantity/size: D-IF, D/F VS or G/H SI, 5mm (~.50ct) or 4mm (~.33ct)
Band style: Narrow version of our original Ring, 4mm wide.
Engraving: Choose None, Inside, Outside or Both Sides of the ring. For outside engraving, two phrases of about 25 characters are recommended (we position the diamond between the two phrases).
*If out of stock, the price shown is a guide only. This design can be remade, all precious metals are available and final pricing will depend on finger size, metal prices and quality of stone desired.
All metal options are available with D-IF quality diamonds, please request a quote if your desired option is not listed. 
Buy the Modern Engagement Ring
Enquire about a custom design
Questions and answers relating to the Modern Engagement Ring
Free Shipping for Orders over NZD $449
Any order whose total value (including NZ GST if applicable) exceeds NZ$449- or equivalent qualifies for Free Shipping (using either standard Courier in NZ or Fedex International Priority outside of New Zealand) which will be automatically applied during the Checkout process.
Read more about our free shipping
Lifetime Workmanship & Satisfaction Guarantees
Jens Hansen offers a return to studio lifetime workmanship guarantee on our jewellery. This means that if in the unlikely event a workmanship defect is ever discovered, we will replace or repair the item. The item needs to be returned to our studio for assessment and repair and the guarantee does not cover wear and tear, accidental or consequential damage.
Read more about our lifetime guarantees