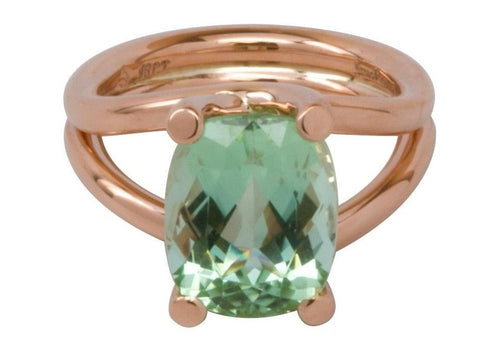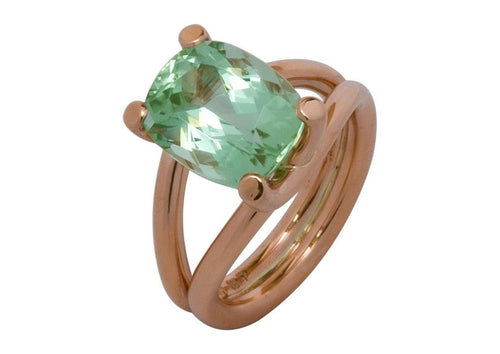 Vibrant Apple Tourmaline, Red Gold
The Apple Green Tourmaline prong set in red gold features a bold, contemporary design that makes it a true statement piece. The stunning red gold band showcases the sparkling cushion cut Tourmaline and it vibrant Apple Green colour.
The Polished band is made from 18ct red gold which is made from gold and copper alloy to create a distinguished and unique tone.  Each side of the prong setting and band have been hand crafted as one and the cross over style provides a interesting detail plus additional strength.  The Green Tourmaline stone is known to be a healing crystal, and represents strength, courage, vitality and stamina.
Show off your own distinctive style by adding this Unique Green Tourmaline Ring to your jewellery collection today.
Specifications
Metal type: 18ct red Gold 750.
Settling style: Four Prong. 
Stone type/colour: Tourmaline, Apple Green.
Stone shape/cut:  Faceted rectangular cushion cut.
Stone size: 7.41ct, 13x10mm.
Band style: Double round wire with crossover shoulders.
Email us about a custom design
Enquire about a custom design