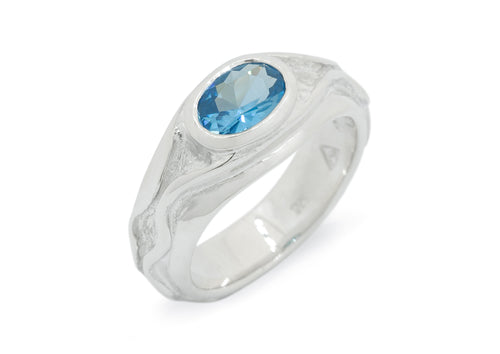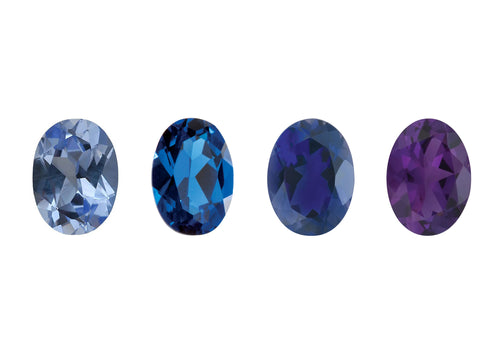 It is a statement of record that for the Peter Jackson Lord of the Rings movie trilogy we made the One Ring in all its appearances, the silver chain worn by Frodo Baggins and Vilya, ring of Elrond.
We did not make any of the other so called 'rings of power' and jewellery in the movie. 
This is a replica of the original ring we designed and made for actor Hugo Weaving who played Elrond in the movies. For legal reasons we cannot use the actual name given to the ring in the books and movies. We call it "The Ring of Hugo". It is not licensed merchandise.
In the Peter Jackson Lord of the Rings and The Hobbit trilogies the original gold and sapphire version of this ring can be seen it in The Fellowship of the Ring (early on when the elves are holding up the 3 elven rings), The Return of the King (on Hugo Weaving's hand near the end before he boards the ship), and in The Hobbit: The Battle of Five Armies (on Hugo's hand during/after fight with the ring wraiths).

For those of you who love this design and the character but have different jewel and metal tastes we created this sterling silver version. 
Do you desire a specific colour or a different gemstone?

There is a wider range of precious gemstones available on request including Sapphire, Ruby, Emerald and Diamond. We would love to hear from you and look into custom options to create something that is truly yours.
Gemstone Notes
'Natural' Gemstone grown and recovered from the Ground.
'Lab Grown' Gemstone grown in a Lab with the same genetics as its Natural Gemstone type.
'Imitation' Can be any Gemstone type Lab Grown or Natural of the same colour.
Specifications
Metal type: Sterling Silver
Band style: Tapered band (from 9.5mm at the top) with raised detail
Metal finish: Oxidised or Polished
Settling style: Bezel
Stone size: 8x6mm
Stone shape: Oval
Stone cut: Faceted
Design number: JW334
Enquire about a custom design
Questions and answers relating to The Ring of Hugo
Free Shipping for Orders over NZD $449
Any order whose total value (including NZ GST if applicable) exceeds NZ$449- or equivalent qualifies for Free Shipping (using either standard Courier in NZ or Fedex International Priority outside of New Zealand) which will be automatically applied during the Checkout process.
Read more about our free shipping
Lifetime Workmanship & Satisfaction Guarantees
Jens Hansen offers a return to studio lifetime workmanship guarantee on our jewellery. This means that if in the unlikely event a workmanship defect is ever discovered, we will replace or repair the item. The item needs to be returned to our studio for assessment and repair and the guarantee does not cover wear and tear, accidental or consequential damage.
Read more about our lifetime guarantees