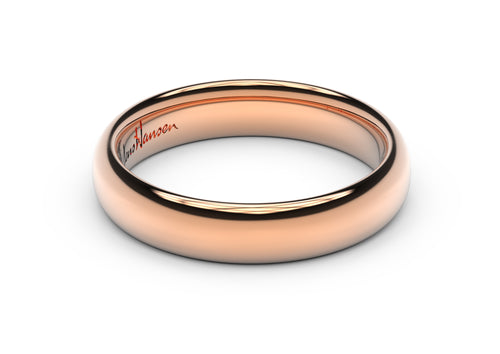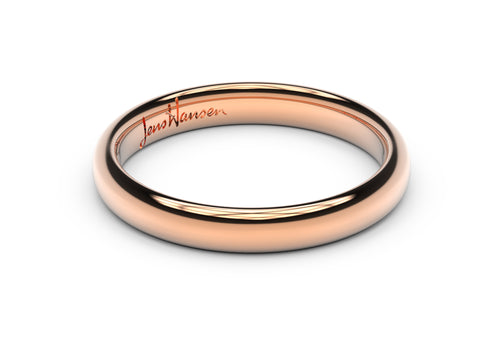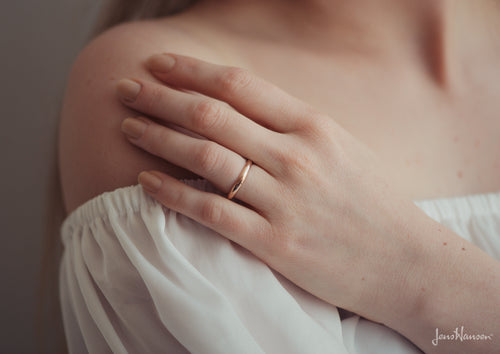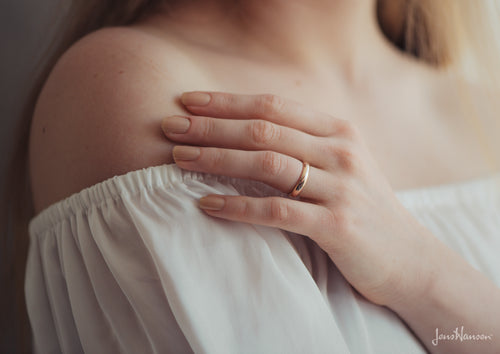 The 'Petite One' - a narrower & Lighter Version of the Replica Ring & 'Little One'
Red Gold & Smooth Polished
Just like in the films only smaller.
The Jens Hansen Ring that was filmed for The Lord of the Rings™ movies was originally made in 18ct yellow gold.  It weighed approximately 17 grams (more than 1/2 oz.), is 2.7mm thick through the band and measures about 7mm tall (just over 1/4 inch) when laid on its side.
This 'Petite One' measures ether 4mm or 3mm wide, Making it a perfect Elvish themed wedding band for the smaller hand.
If it is not perfect as is please click the Forge Your Custom Ring button below to use our Ring Builder tool for more options.
18ct red gold - maximum gold content and lifelong durability.
14ct red gold - a mid-price option that is exceptionally hardwearing & the minimum

 quality

 considered as real gold in many countries.
9ct red gold - the best solid gold option on a budget.
Custom Engraving & English-to-Elvish 
This ring can be engraved on either or both the inside and outside of the band. Checkout our english-to-elvish translator.
You can have your own engraver or jeweller engrave the ring for you at anytime in the future, or if you would like us to arrange engraving for you when you buy there is a fixed cost of NZ$115- per side engraved. 
NB: Our laser engraver can handle any message, pattern, pictures or symbols desired so long as you are using standard fonts, or can provide a two-tone (e.g. Black & White) image file AND there is enough room for your message to fit on the ring.  We CANNOT for legal reasons engrave the same elvish script that features on our licensed The One Ring designs.  Other messages in elvish or any other language are ok, of course.
Buy the Red Gold 'Petite One'
Enquire about a custom design
Questions and answers relating to the Red Gold 'Petite One'
Free Shipping for Orders over NZD $449
Any order whose total value (including NZ GST if applicable) exceeds NZ$449- or equivalent qualifies for Free Shipping (using either standard Courier in NZ or Fedex International Priority outside of New Zealand) which will be automatically applied during the Checkout process.
Read more about our free shipping
Lifetime Workmanship & Satisfaction Guarantees
Jens Hansen offers a return to studio lifetime workmanship guarantee on our jewellery. This means that if in the unlikely event a workmanship defect is ever discovered, we will replace or repair the item. The item needs to be returned to our studio for assessment and repair and the guarantee does not cover wear and tear, accidental or consequential damage.
Read more about our lifetime guarantees