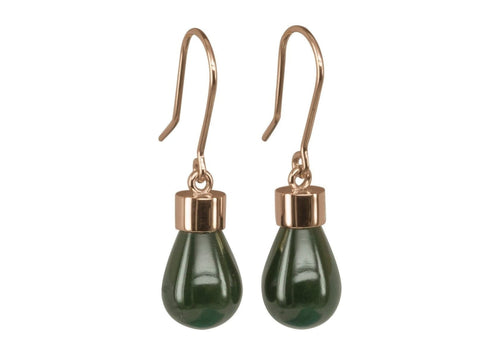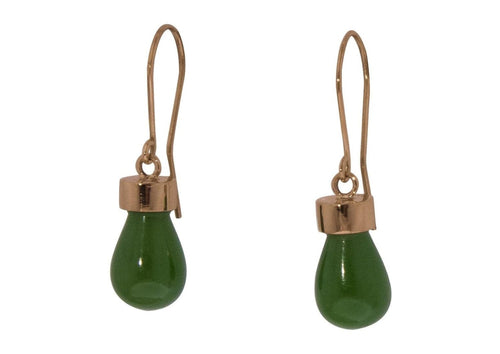 New Zealand Greenstone 'Pounamu' Earrings, Red Gold
Yours, from
NZ$2,090 (Inc GST)
View product options
These stunning deep green New Zealand Pounamu (Greenstone/Jade) Earrings have been hand carved into a teardrop style by a local South Island carver. They are caped with a fantastic Red Gold shepherd hook and given a luxurious high polish finish.
Specifications
Metal type: All available, 9ct, 14ct & 18ct Red Gold
Setting style: Capped.
Stone type:  New Zealand Greenstone '

Pounamu'.

  
Stone shape/cut: Teardrop with Smooth Finish.
Stone quantity/size: Colour shade may very, Large ~15x10mm & Medium ~10x8mm.
Earring style: Shepherd hook drop with polished finish.
Manufacturing/Delivery: 3-4 Weeks plus Shipping time. 
Significance to Māori & Additional Information
Pounamu plays a very important role in Māori culture. It is considered a taonga (treasure), Pounamu taonga increase in mana (prestige) and are often given as gifts. It is found only in the South Island of New Zealand generally in rivers, known in Māori as Te Wai Pounamu ("The [land of] Greenstone Water") or Te Wahi Pounamu ("The Place of Greenstone"). 
These Earrings are also available in a selection of Precious White Metals or Yellow Metals. If you would like more details about this design or our other unique Pendants by the same Carver, please Click the Talk to Us About a Custom Design Button below.
Buy the New Zealand Greenstone 'Pounamu' Earrings
Enquire about a custom design
Questions and answers relating to the New Zealand Greenstone 'Pounamu' Earrings
Free Shipping for Orders over NZD $449
Any order whose total value (including NZ GST if applicable) exceeds NZ$449- or equivalent qualifies for Free Shipping (using either standard Courier in NZ or Fedex International Priority outside of New Zealand) which will be automatically applied during the Checkout process.
Read more about our free shipping
Lifetime Workmanship & Satisfaction Guarantees
Jens Hansen offers a return to studio lifetime workmanship guarantee on our jewellery. This means that if in the unlikely event a workmanship defect is ever discovered, we will replace or repair the item. The item needs to be returned to our studio for assessment and repair and the guarantee does not cover wear and tear, accidental or consequential damage.
Read more about our lifetime guarantees