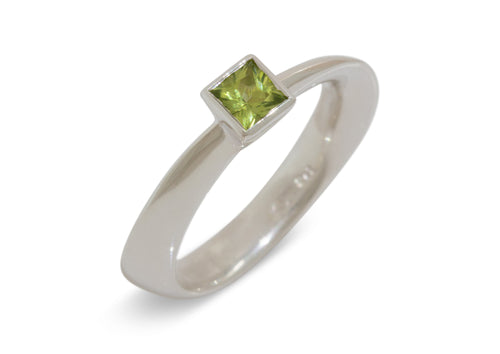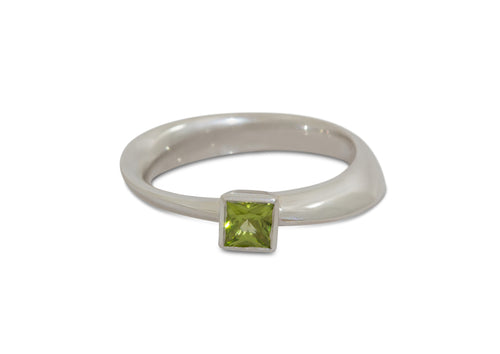 Contemporary jewelry designer Jens Hansen presents this Sterling Silver ring with Princess cut Gemstone. The Gemstone, in a square raised setting, compliments the Silver band, a Möbius strip.  As an everyday ring or cocktail ring, this piece of jewelry is designed to stand the test of time.

This ring design was an audience prize during the New Zealand Super Club Netball 2019 competitions.
A Möbius strip, Möbius band, or Möbius loop, also spelled Mobius or Moebius, is a surface with only one side and only one boundary. The Möbius strip has the mathematical property of being unorientable. It can be realized as a ruled surface.
Specifications
Metal type: Sterling Silver.
Settling style: Bezel.
Stone type: Natural Peridot
Stone shape/cut: Square princess cut.
Stone size: 4mm.
Band style: Flat narrow profile with Mobius twist.
If you desire a different gemstone, precious metal or price point please ask, we would love to look into some options for you and create something that is truly yours.
Buy the Möbius Princess Ring
Enquire about a custom design
Questions and answers relating to the Möbius Princess Ring
Free Shipping for Orders over NZD $449
Any order whose total value (including NZ GST if applicable) exceeds NZ$449- or equivalent qualifies for Free Shipping (using either standard Courier in NZ or Fedex International Priority outside of New Zealand) which will be automatically applied during the Checkout process.
Read more about our free shipping
Lifetime Workmanship & Satisfaction Guarantees
Jens Hansen offers a return to studio lifetime workmanship guarantee on our jewellery. This means that if in the unlikely event a workmanship defect is ever discovered, we will replace or repair the item. The item needs to be returned to our studio for assessment and repair and the guarantee does not cover wear and tear, accidental or consequential damage.
Read more about our lifetime guarantees