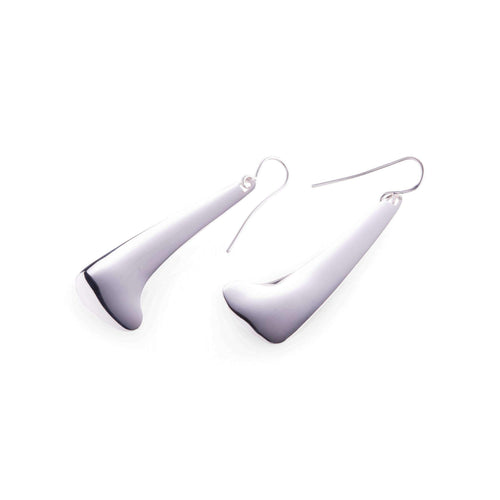 These unique sterling silver earrings were originally created by Jens Hansen. The design is one of a series of freeform shapes he sketched. Each pair was then cut from silver sheet and hand raised with a jewellers hammer before being mirror polished. This makes them reflect the light beautifully while remaining strong and effortless to wear. Today the jewellers in our workshop still follow Jens' working templates for these pieces and handcraft them in the traditional way.
Specifications

Metal quality: Available in all Precious Metals
Metal finish: Polished
Earring style: Free Form Domed shape with Hooks
Buy the Freeform Domed JH3 Style Earrings
Enquire about a custom design
Questions and answers relating to the Freeform Domed JH3 Style Earrings
Free Shipping for Orders over NZD $449
Any order whose total value (including NZ GST if applicable) exceeds NZ$449- or equivalent qualifies for Free Shipping (using either standard Courier in NZ or Fedex International Priority outside of New Zealand) which will be automatically applied during the Checkout process.
Read more about our free shipping
Lifetime Workmanship & Satisfaction Guarantees
Jens Hansen offers a return to studio lifetime workmanship guarantee on our jewellery. This means that if in the unlikely event a workmanship defect is ever discovered, we will replace or repair the item. The item needs to be returned to our studio for assessment and repair and the guarantee does not cover wear and tear, accidental or consequential damage.
Read more about our lifetime guarantees