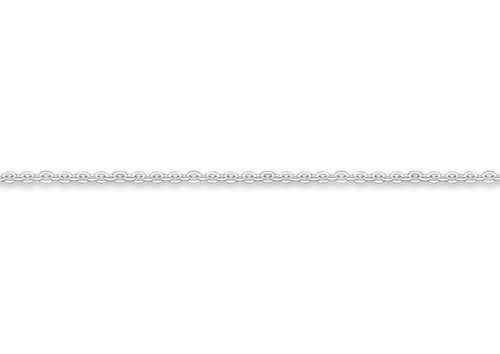 Fine Cable Chain with round wire links. Available in necklace and bracelet lengths. 
For a bracelet length choose 18cm (7") or 21cm (8") otherwise prices shown start with the 40cm (15.7") chain. Check the dropdown for price of 45, 50, 55, 60, 65, and 70 cm lengths (17.7", 19.7", 21.5", 23.5", 25.5" or 27.5"). Ask for price and availability in other sizes.
Enquire about a custom design
Questions and answers relating to the Fine Cable Chain
Free Shipping for Orders over NZD $449
Any order whose total value (including NZ GST if applicable) exceeds NZ$449- or equivalent qualifies for Free Shipping (using either standard Courier in NZ or Fedex International Priority outside of New Zealand) which will be automatically applied during the Checkout process.
Read more about our free shipping
Lifetime Workmanship & Satisfaction Guarantees
Jens Hansen offers a return to studio lifetime workmanship guarantee on our jewellery. This means that if in the unlikely event a workmanship defect is ever discovered, we will replace or repair the item. The item needs to be returned to our studio for assessment and repair and the guarantee does not cover wear and tear, accidental or consequential damage.
Read more about our lifetime guarantees