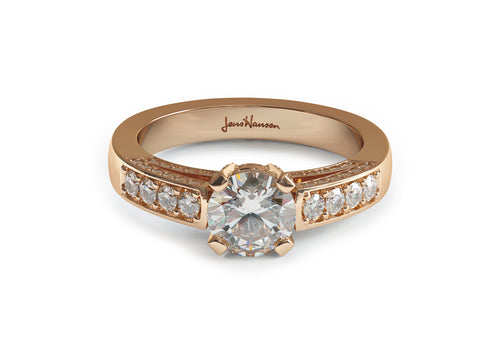 A timeless classic, this diamond solitaire engagement ring is both exquisite and alluring. The design has been hand crafted in precious alloys with a dazzling solitaire diamond surrounded by diamond pave. The claw style setting permits light to penetrate the stone for a dazzling display not to be forgotten. The diamond pave on the band and shoulders of the ring allows for a complex play of light with each movement of its wearer.
Each Jens Hansen diamond ring is a hand-forged sculptural design, fit to become a family heirloom. Your ring will be crafted to your individual taste and desired budget.
Specifications
Metal Type: Available in all Red Metals
Settling style: Claw and Pave
Stone quality: D/F VS
Central stone weight: ~1-1.10ct (1ct), ~0.70-0.75ct (3/4ct) or ~0.50-0.55ct (~1/2ct)
Central stone size: ~6.5mm, ~5.75mm or ~5mm
Smaller stones size: ~1.75mm & ~1mm
Stone shape: Round
Stone cut: Brilliant
Custom CAD Design: by the Jens Hansen Studio
Also available in White or Yellow Metals
*If out of stock, the price shown is a guide only. This design can be remade, all precious metals are available and final pricing will depend on finger size, metal prices and quality of stone desired.
Buy the Exquisite Diamond Ring
Enquire about a custom design
Questions and answers relating to the Exquisite Diamond Ring
Free Shipping for Orders over NZD $449
Any order whose total value (including NZ GST if applicable) exceeds NZ$449- or equivalent qualifies for Free Shipping (using either standard Courier in NZ or Fedex International Priority outside of New Zealand) which will be automatically applied during the Checkout process.
Read more about our free shipping
Lifetime Workmanship & Satisfaction Guarantees
Jens Hansen offers a return to studio lifetime workmanship guarantee on our jewellery. This means that if in the unlikely event a workmanship defect is ever discovered, we will replace or repair the item. The item needs to be returned to our studio for assessment and repair and the guarantee does not cover wear and tear, accidental or consequential damage.
Read more about our lifetime guarantees