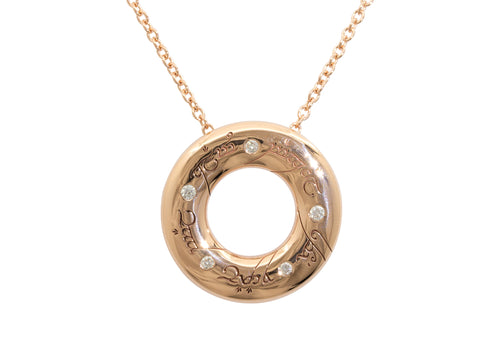 Custom Wanderers Circle Pendant with Diamonds & Hidden Bales, Red Gold
What words do you live by?
Create your own Custom Wanderer's Circle Pendant featuring flush set diamonds or your favourite gemstone.
Made in solid red gold, The Wanderers Circle is a recreation of The Movie Ring. It has the same unique shape, weight and size. We simply transformed it into a pendant. It can be engraved in all languages. It is not licensed merchandise.
You can choose a quote from books or movies or anything else you want the Circle to remind you of. You can choose the language (even Elvish) to make the Wanderers Circle your own.
For a custom message 100-120 characters will be perfect but if your message has fewer letters we can space them around the circle as you wish. (In this case, after you have placed your order we will contact you by email to discuss layout options).
It's perfect for everyday use. Just choose the chain option that fits your personal style and a message that's close to your heart.
Get the Wanderers Circle for yourself or give it as a unique, meaningful gift to a friend today.
Chain Options
Double hidden bales - an invisible option of two red gold jump rings with a red gold cable chain
Fixed loop - a traditional fixed red gold jump ring with a red gold cable chain
Infinity loop - a modern free running red gold jump ring loop with a red gold cable chain
Wax cord & toggle - an adjustable strong plaited cord with a red gold button clasp
Specifications
Metal quality: Available in 9ct, 14ct & 18ct Red Gold
Metal finish: Polished
Pendant style: Circle with Original ring comfort curve profile
Pendant size: 26mm Diameter & a 3mm Thickness
Construction: Solid (not hollow)
Chain style: Double hidden bales & cable chain
Email us about a custom design
Enquire about a custom design